THE VETERAN CAR CLUB OF GREAT BRITAIN
THE SOUTH EAST SECTION COMMITTEE MEMBERS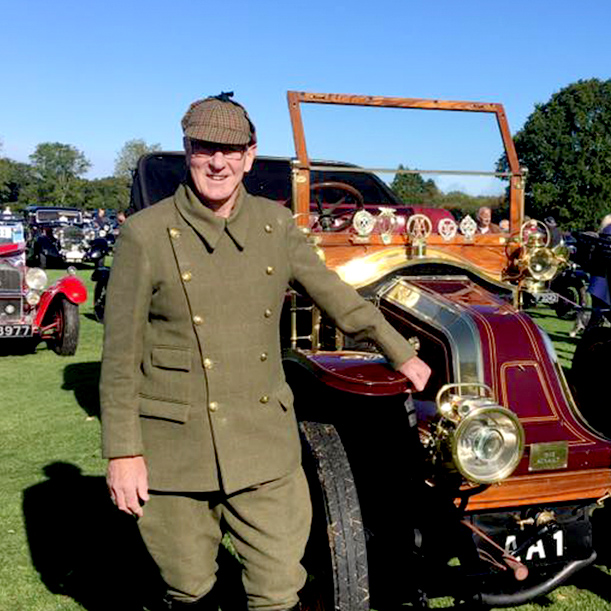 Denis Bass
CHAIRMAN
Denis has been custodian of AA1 the AA's 1905 Renault for the past 21 years, and is organiser of many events for the VCC.
David Gibbins
TREASURER
Treasurer of the South East Section with family connections to motoring going back to the 1890's and with the VCC since 1977.
David Greaves
COMMITTEE
Cars have been my lifelong interest and I particularly enjoy participating in Veteran Car Club events and activities.
Michael Edwards
VICE CHAIRMAN
Michael has been collecting & researching De Dion Bouton motor vehicles for many years. He also drives an early Benz & a 1913 Talbot
David Ralph
SECTION SCRIBE
I have always had a keen interest in veteran cars and have watched the London to Brighton Run since childhood
Ron Clark
COMMITTEE
I joined the VCC over 45 years ago and participated in many events around the country and overseas. I am also a Club Trustee at VCC HQ.
Barbara Greaves
SECRETARY
Veteran cars have been a feature of my life for many years and in addition, I now enjoy the role of SE Secretary
Peter Boulding
EVENTS COORDINATOR
I enjoy driving my veteran cars  and came on to the Committee to assist the organisation of the SE events for the enjoyment of others.
Cressida de Little
COMMITTEE
I have taken part in the London to Brighton Run since I was a child, & now represent the younger members of this Club.